On our 2nd day In Japan we went on a tour of Kawakawa. For the first time, we met the 12 students that accompanied us during our visit to Japan. All of the students are studying international relations in Kawakawa University. We started the day in a beautiful Japanese garden that looks just as if it had been taken from a movie, with many trees, flowers, and lakes. Everything is so clean and well arranged. We went to a traditional tea house located in the middle of the garden and experienced a traditional tea ceremony. We got a Japanese sweet, and the braver ones among us even tasted it. Then we got a bowl of traditional Japanese tea, a warm drink with the flavor of seaweed, not exactly our definition of tea, but certainly an interesting experience.
We paid a quick visit to the famous fish market in the city. Wow, the smells, the sizes and the many different kind of seafood! We had lunch in a traditional Japanese restaurant. As is the custom, we sat on the floor and 3 geishas walked on their knees to give us the food that most of us left on the plates.
Wrote: Yonat and Ibrahim
~~~~~~~~~~~~
Saturday, 1.8.09
Today we spent the day with our host families. In the morning all of us met at the women's center for a meeting with Kawakawa local people. We, Palestinians and Israelis, sat on the stage and gave short speeches regarding our thoughts about Peace. The Ambassadors of Palestine and Israel and Kanazawa's Mayor honored us with their presence. The students of Kanazawa gave a presentation about their thoughts and about our conflict and peace in general.
It was so nice to see that Kanazawa's schools dedicated time for these issues. The singing of the song "it's a small world" on stage with the Japanese students and our delegation ended the ceremony. We sang it in Japanese, English and Hebrew.
Noam: The 2nd part of the day was with our host families, Majd was my partner and we stayed with the Nakayachi family which opened their home and hearts to us and treated us like their own daughters. This family also hosted a Chinese 21 year-old student, who came to learn Japanese. She was so sweet and we connected so well. Since it was a rainy day, we decided to stay indoors and watch a movie. Our host had never met any Jews in his life but he has a library of Holocaust films. We saw together the film "the pianist". It was an unforgettable experience for me to have watched a Holocaust movie together with a Palestinian girl and a Chinese girl in the same room, being able to feel the pain, cry and close our eyes at the same horrifying parts.
The connection with Majd was a success as well, I felt she truly wanted to hear my opinions and I wanted to learn about the life of the other side as well. One thing that Majd said will never leave me; when she looks out the window in her home, she cannot see trees, only buildings. This really touched me and made me think that even though we were together in Japan for a week, after that each one of us would be returning to his or her own life. It struck me that that was so absurd!
I really hope that my Japanese "father" Osamu is right and peace will come soon.
Khalil: I went with my friend Yigal and the host family to the supermarket to do some shopping and buy food that would be more familiar to us. Friends of the host family came to visit, we took some photos with them and we all sat to see the news. Sorry, it was in Japanese so I can't explain to you what was so important in this news bulletin. I have only learned few words in Japanese and the word I use the most is "Arigato", which means "Shukran" (thank you). This wonderful day changed for me when I heard that my friend from Nablus had been arrested by the Israeli authorities. With the help of Yigal and my other new friends in the delegation, I started to feel a bit better.
Wrote: Noam and Khalil
~~~~~~~~~~
Sunday, 2.8.09
Hiba: Our host family welcomed us in the evening we came to their house. They told us some things about themselves; the wife works at a local bank and the husband is a teacher. We went with them to Kanazawa's Insects Museum, where we saw huge butterflies and other flying insects.
Shopping with the host family was also nice, although the prices are very high. I had an interesting and new experience when I talked to Rim (an Israeli Druze) about the Israeli-Palestinian conflict and we were sharing our personal experiences. The host families were very interested to hear about our lives and we shared a lot with them. They taught us to eat Japanese food with chopsticks and I finally was able to catch something with those wooden sticks. They tried hard to keep us happy, I am thankful for that and I hope I will meet with them again.
Elad: The next morning we had breakfast with our host families in their houses and then we met with the whole group and our escort students.
We met at city hall and went by bus to the mountains across the city. Kanazawa is like Haifa, a port and a beach along the mountains. The scenery is beautiful – everything is green and looks like a Japanese garden. We got to a culture center right in the middle of the mountain, went off the bus and as usual took of our shoes and wore the plastic Japanese sandals they provide for the visitors. The first activity was Japanese cooking: one group made Japanese salad and the other – a sort of Japanese traditional pancakes made of vegetable and soya sauce. We sat (on the floor around low tables of course), to eat the food we prepared.
Hiba: We changed our clothes to kimonos; it was funny and beautiful to see all the group, boys and girls, with those traditional outfits.

We had to take small steps. Now I understand why the Japanese women do those small fast steps when they walk or run.
Elad: We saw an impressive show of the lion dance with a huge lion doll, warriors and a band of flutes, drums and something like a Japanese banjo. They fought each other and together with the lion. It's a very traditional dance. It is amazing how the Japanese take tradition so seriously.
A nice group of women wearing traditional kimonos danced and taught us a local dance. Obviously, we had to get them to dance "sh'avtem Mayim Besason and a Palestinian Debka. It was fun and you should have seen Khalil dancing like a native Japanese.


Hiba: Majd would like to add that it was the most beautiful day because of all the dancing and the culture, especially when we took an active part in it. We progressed a lot in knowing each other; it seems that it is much easier to have a heart- to-heart conversation
Elad: At we were given a farewell party by the host families, the escort students and the citizens of Kanazawa. It was a good opportunity to go on stage, thank them and to give gifts. Nir is interrupting me; he wants to thank Siham and Vered for preparing and organizing all the gifts. We are getting so many things and gifts, and it's great that we can give back and thank back. All the gifts were gratefully accepted.
When we came back to the hotel we had a group talk. Each one of us told the group what he had been through and what he had learnt so far. We sat together for two hours and time flew. We all expressed our feelings and how we perceive the other side. Many of us are undergoing a good process, and we are getting closer and closer to each other. We had some arguments and disagreements but we feel that this journey is helping us to go on with hope and to believe in peace.
Wrote: Hiba and Elad
~~~~~~~~~
Tokyo, Japan - Agust 04
Nissim Ben Shitrit (2nd L), Japan's ambassador of Israel, and Hisham Nassar (3rd L), Japan's Palestinian representative, sits with young Israelis and Palestinians from the PCFF as they listen to Japanese Prime Minister Taro Aso (R) at the premier's official residence on August 4, 2009 in Tokyo, Japan. Youth from Israel and Palestine are meeting in Japan to enhance dialogue between both parties.
In this photo: Taro Aso, Hisham Nassar, Ben Shitrit, PCFF youth deligation, Mazen Faraj, Cherman and Nir Oren, Israeli General Manager.
Photo: Pool/Getty Images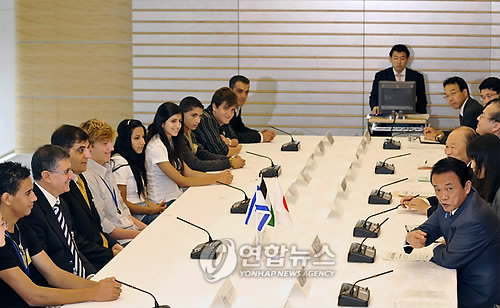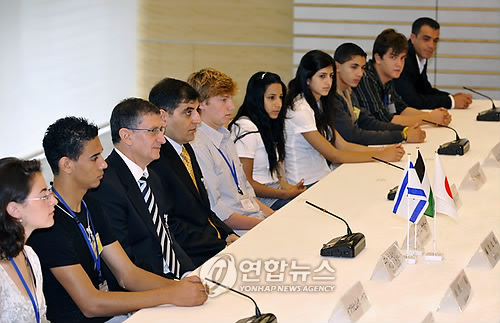 ~~~~~~~~

The PCFF would like to thank Kanazawa's Mayor, Municipality and residents for inviting us and welcoming us with endless generousity and for giving us a sense of home.

We thank the prime minister of Japan, Mr. Taro Aso, the Israeli Ambassador to Japan; Mr. Nissim Ben Shitrit, the first Secretary of the Embassy of Palestine, Mr. Hisham Nasser. We thank the Mayor of Ayabe and the Mayor of Koganei, who have welcomed us in the past.